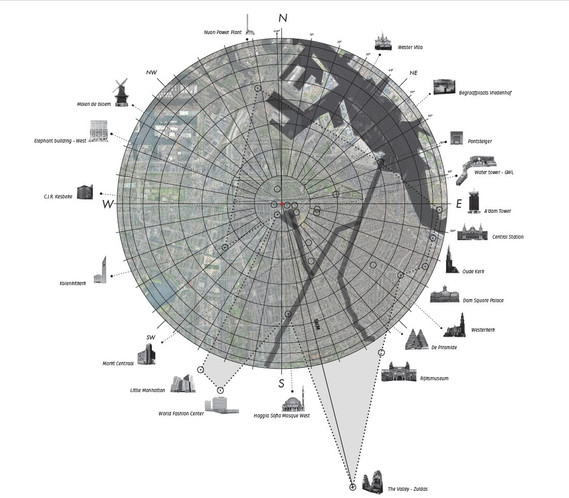 03 2023
The studio this year (Tutors : Jo Barnett and Karlijn Besse)at the Academie van Bouwkunst is exploring how to grow food on an existing roof.

Our host building is the Da Vinci Creatieve Ruimtes in Amsterdam, which as a result of multiple additions through the years has roofs of many different dimensions and heights. A landscape already waiting for us to use. The highest point of the building is relatively modest but the change of view and scale from this point is unexpected and spectacular.
We have had really great input from Roef and De Dakdokters (Amsterdam), also DakAkkers and The Rural School of Economics (Rotterdam)on activating city roofs and issues about food production.
We are exploring how we can use second use building materials "bought" from the internet to add to the building to enhance the connection between city and food production.
The drawing is by Fabia Sainz Fernandez with additional research by Rabia Turhan and Nigo Farida and shows the landmarks that can be seen and their distance from our site.